[vc_row][vc_column][vc_column_text]
Application Sequence
This is an example of typical hoof growth after two previous applications of Hoof Armor.
Any type of trim can be done including natural rollovers, mustang roll, etc. The preferred trim; the Hoof Armor Corrective Trim, is available here.
Paring the sole is not recommended.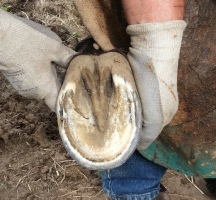 The hoof should be freshly rasped or wire brushed.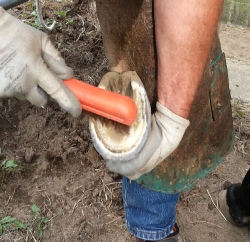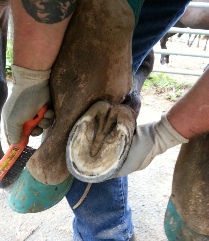 Apply a THIN bead of Hoof Armor to the hoof wall. Hoof Armor can be applied to the sole for immediate protection and to grow thicker sole for future stone protection.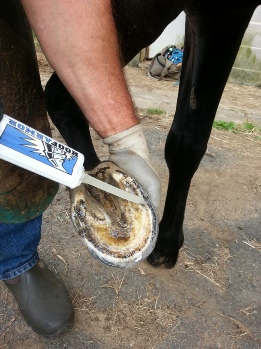 Two rubber gloves are included in the kit to spread the Hoof Armor to the desired thickness.
Only a THIN coating is required.
Once applied the hoof should be coated with Talcum Powder or placed down in sand or loose soil.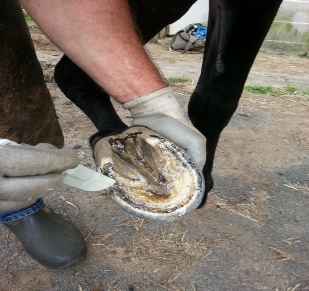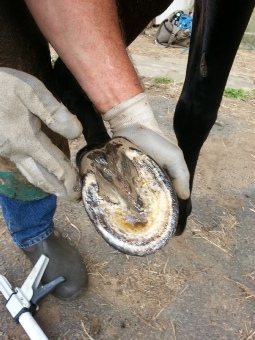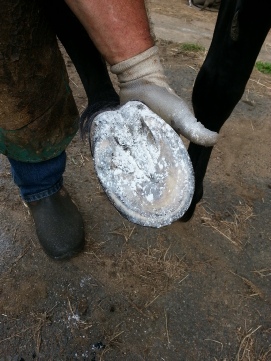 As a precaution, if the Hoof Armor is not completely dry to the touch, it is recommended to avoid concrete or rubber mats with a Hoof Armored hoof for at least one hour if possible.
That is the reason the talcum powder is used.  It keeps Hoof Armor from smearing on concrete or rubber mats.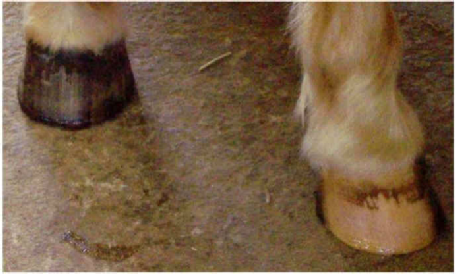 Hoof Armor Starter Kit
Tips on Use:
As I have always had trouble keeping from using my hands, I have been wearing that a pair of latex gloves and found that using my gloved finger to rub the Hoof Armor into the sole gives me the right thickness and cures quicker.
[/vc_column_text][/vc_column][/vc_row]